Develop WordPress Sites Locally with Chassis
Match your production servers locally.
Configure Chassis to run the same version of PHP as your production servers, including PHP extensions. Never hear "it worked on my machine!" again.

Welcome to Ubuntu 12.04 LTS (GNU/Linux 3.2.0-23-generic x86_64)
Last login: Sat Nov 19 14:16:24 2016 from 10.0.2.2
vagrant@vagrant:~$ php --version
PHP 5.6.22-1+donate.sury.org~precise+1 (cli)
Copyright (c) 1997-2016 The PHP Group
Zend Engine v2.6.0, Copyright (c) 1998-2016 Zend Technologies
    with Zend OPcache v7.0.6-dev, Copyright (c) 1999-2016, by
      Zend Technologies
vagrant@vagrant:~$ mysql --version
mysql  Ver 14.14 Distrib 5.5.49, for debian-linux-gnu (x86_64)
  using readline 6.2
vagrant@vagrant:~$ nginx -v
nginx version: nginx/1.1.19
Built for everyone.
We built Chassis Desktop as an easy-to-use UI for everyone from developers to designers to project managers, beginners to experts.
But it doesn't stop there. We've filled Desktop with power-user tools, like keyboard navigation: just hold ⌘ to view shortcuts.
Need more control? Drop down to the terminal and work directly with Vagrant.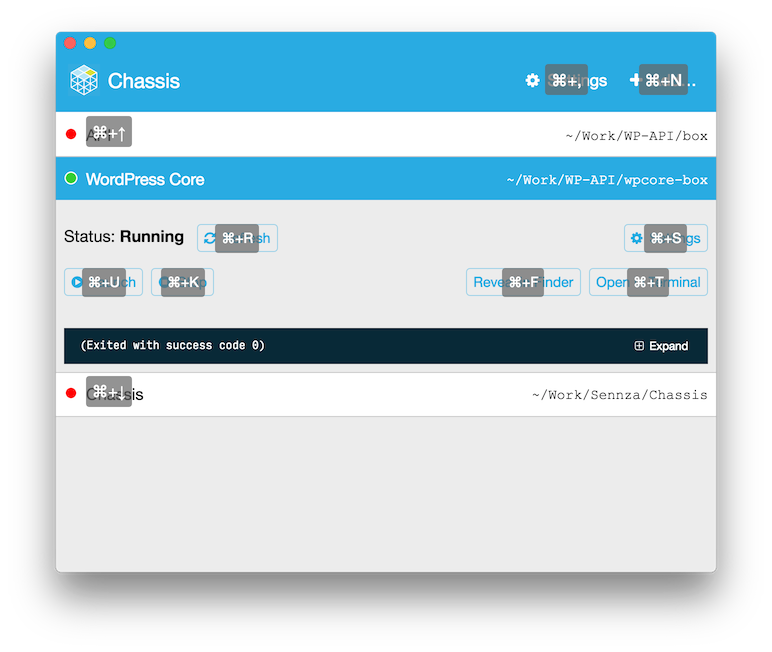 Extensible AF
We can't be everything to everyone. Fortunately, with Chassis' ecosystem of extensions, you can build a system to your exact specifications.
View all 53 extensions →
Memcache
Install memcache and add it to PHP (uses PECL memcache).